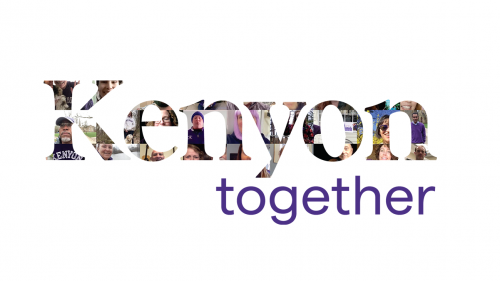 In the midst of a global pandemic and national unrest over racial injustice, Kenyon alumni, parents, friends, faculty and staff combined to give $1,004,299 to the College during a 36-hour period.
The online giving challenge, called "Kenyon Together" and held June 10–11, resulted in 1,991 people making gifts to the areas at Kenyon where they wanted to make the biggest impact. Young alumni from each of the Classes from 2012 to 2018 had the highest rates of participation by year, along with the Classes of 1985, '84 and '89.
More than 100 volunteers — including class agents, regional volunteers, and members of the Kenyon Fund Executive Committee (KFEC), Alumni Council and Board of Trustees — played an integral role in reaching out to their peers to encourage them to support Kenyon before the end of the fiscal year on June 30.
Kyra Green '17 was among those class agents who recorded a "personal plea" video to call for support. In it, she acknowledged that she was initially hesitant to get involved, given the many other causes worthy of support and issues roiling the country. "But I changed my mind because Kenyon is a place that will always be home to me …. It's the place where so many friends became family, and it's the place where I was forced to confront issues of race and identity, both on a personal and theoretical level, often at times when I didn't feel prepared to do so, and now is no different," Green said.
"Kenyon is also the place where I learned that it's important, it's possible and it's necessary to care about more than one thing at a time."
In response to requests from young alumni, designations to give directly to the Black Student Union, which just celebrated its 50th year, and the Office of Diversity, Equity, and Inclusion were added, along with scholarships and aid, athletics and other areas. Newly established scholarships honoring the 50th anniversaries of the BSU and of women at Kenyon were also recipients of support.
Director of Annual Giving Molly Gutridge '99 said the challenge exceeded all expectations. "The response was, quite simply, overwhelming. We owe a lot of the success to the young alumni like Kyra who mobilized their classmates and demonstrated that they could support people of color by designating their giving to those areas at Kenyon," Gutridge said.
"The fact that the other classes in our top 10 of participation by class came from the '80s is a testament to the enduring affection people have for Kenyon and its values," she said.
Kenyon Board of Trustees members Matthew Voorhees '95 and Matthew A. Winkler '77 H'00 P'13 each offered challenges that helped spur giving. After an initial 3:1 match for young alumni from KFEC members was quickly met, Voorhees offered $25,000 to extend it, then added to that for a total of $50,000 in matched funds.
Winkler announced his desire to recognize the "unparalleled leadership" of President Sean Decatur at this time by offering a 1:1 match for all gifts from Kenyon alumni and parents — up to $75,000, an amount that was quickly reached.
Winkler announced his match with gratitude to Decatur for: "his undaunted courage, optimism and affinity with Kenyon students, parents, faculty, administrative staff and alumni — an exceptional achievement, especially now in these most perilous times."
The family of the late Henry J. Abraham '48 H'72 P'79,'84, for whom Kenyon's loyal giving society is named, also offered a $10,000 match to encourage loyal donors who had not given this fiscal year to give. Abraham made a gift to the College every year from 1955 until his death in February. That match was also met.
The concept of Kenyon Together was created after the COVID-19 pandemic forced the cancellation of the annual Bell-A-Thon fundraiser, scheduled for March 31. The live streamed event typically raises around $700,000 for the Kenyon Fund and Kenyon Parents Fund, which directly support the College's operating budget. The College has lost more than $7 million due to the crisis.
"It was both personally and professionally gratifying to see my fellow alumni rise to this challenge at a time when Kenyon really needed it," Gutridge said.
The response demonstrated the combined impact gifts at all levels can make, said Colleen Garland, vice president of advancement. The smallest gift was $1, the average gift was $504.
"We know that the future of philanthropy at Kenyon is our young alumni, who may not be in a position now to make large gifts, but who can nevertheless show their support for and belief in Kenyon and its values by giving now at whatever level is personally meaningful to them," Garland said.
Attaining 70 percent participation in giving among alumni over a five-year period is a goal of the ongoing Our Path Forward campaign, the single largest priority of which is support for scholarships. Overall alumni participation in giving jumped three percentage points in the 36 hours of the challenge, to 60 percent over the past four years, with 164 alumni making their first-ever gifts.
Class Leaderboard
| | | |
| --- | --- | --- |
| Affiliation | DOnors | Dollars |
| 2014 | 78 | $3,487 |
| 2015 | 69 | $3,733 |
| 1985 | 59 | $38,525 |
| 1989 | 58 | $14,625 |
| 2018 | 55 | $1,653 |
| 2017 | 53 | $7,126 |
| 2012 | 52 | $2,982 |
| 2013 | 50 | $2,875 |
| 1984 | 43 | $56,040 |
| 2016 | 38 | $1,177 |