Upcoming Events
Join us for a very special celebration of Kenyon's future. The Our Path Forward campaign has been gathering momentum on the Hill, and the celebration will fan out across the country in 2019 beginning in Boston, Washington, D.C., New York, Chicago, and San Francisco.
With the energy and enthusiasm of more than 17,000 alumni and friends, our destination is clear: to equip the next generation of Kenyon graduates with the knowledge and skills, courage and confidence to propel society forward. Save the dates and watch your inbox for details.
New York City
Thursday, April 4, 2019, from 6 - 8 p.m.
Bloomberg LP, New York City
Registration details
Join us for a special evening celebrating how Kenyon and other leading colleges are transforming the face of higher education.
Rod O'Connor '80 P'07 and David Horvitz '74 H'98 invite alumni and parents to join them for an evening of conversation with Matthew Winkler '77 P'13 H'00, President Sean Decatur and Kenyon changemakers committed to expanding college access, with a special message from three-term mayor Michael Bloomberg.
Chicago
Thursday, May 2, 2019, from 6 - 8 p.m.
Shedd Aquarium, 1200 S. Lake Shore Dr., Chicago, IL 60605
Registration details
Rose Brintlinger Fealy '84 and Jim Parker '81 P'10 invite Chicago alumni and parents to join them in one of the city's most celebrated spaces — Shedd Aquarium — for a deep dive on the future of liberal arts education. President Sean Decatur and a panel of alumni will explore how Kenyon is building a bridge between what students know and how they'll use it.
Panelists include:
Manjul Bhusal Sharma '16, TMT Credit Analyst, PPM America, Inc.
Caitlin Cody '05, Vice President/Group Director, Creative Strategy, DigitasLBi
Bob Lind '83 P'15, Principal and Founding Partner, Lind Capital Partners, LLC
Bill Lowry '56 H'99
With:
Elly Deutch Moody '08, Digital Communications Manager, McDonald's Corporation
Chris Toft '89, Vice President of Development, Advocate Illinois Masonic Medical Center
San Francisco
Saturday, May 11, 2019
Exploratorium, Fisher Bay Observatory & Terrace, Pier 15, San Francisco, CA 94111
The Fisher Bay Observatory and Terrace is located at Pier 15 at the intersection of Embarcadero and Green St.
Our Path Forward Campaign Kickoff: October 12-13, 2018
On Saturday, Oct. 13, Kenyon announced the public launch of its largest fundraising campaign ever, titled Our Path Forward: The Campaign for Kenyon. The $300 million comprehensive campaign funds the vision of the Kenyon 2020 strategic plan and prepares the College for its third century.
The transformative power of the Kenyon experience was on display throughout the weekend. Scroll through the galleries below.
Campaign Gala
Saturday, October 13, 2018
Dedication of Keithley House
Saturday, October 13, 2018
Middle Path Block Party
Saturday, October 13, 2018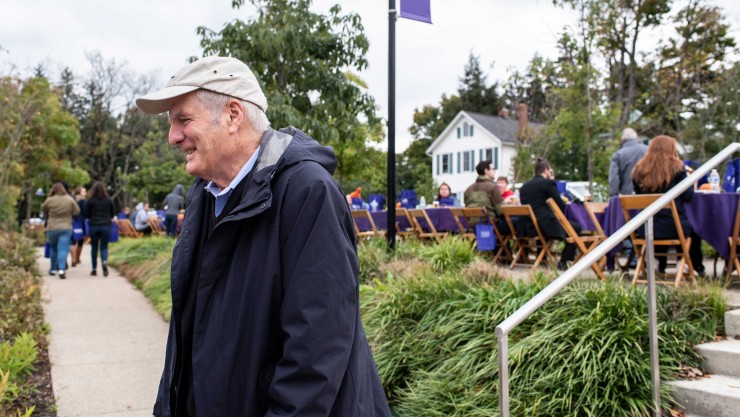 Crossing Paths Reception and Dinner
Friday, October 12, 2018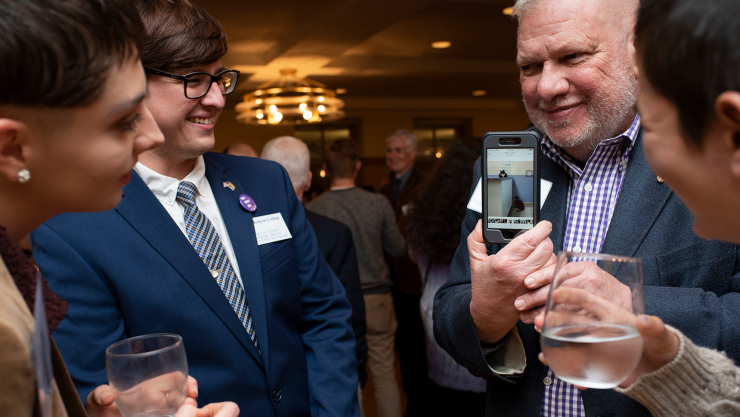 Our Path Forward in Boston
Led by Harvey Lodish '62 P'89 GP'21 H'82,  alumni and parents joined President Sean Decatur and Kenyon change makers for a  special evening celebrating how the liberal arts are transforming the future of scientific discovery, industry and education.
Panelist included Catherine Kenworthy Allan '93, associate director, Boston Children's Hospital , John E. Hofferberth, professor of chemistry, Kenyon College, Laurence J. N. Cooper '86 P'15, CEO of  Ziopharm Oncology Inc., and visiting professor at M.D. Anderson Cancer Center,  and William P. Rice '66, executive chairman of Anchor Capital Advisors LLC. Guests also heard from Brackett B. Denniston '69, chair of the Kenyon College Board of Trustees and James J. Greenwood '02, president of  the Kenyon College Alumni Council.
Artists for Humanity EpiCenter
Thursday, February 7, 2019