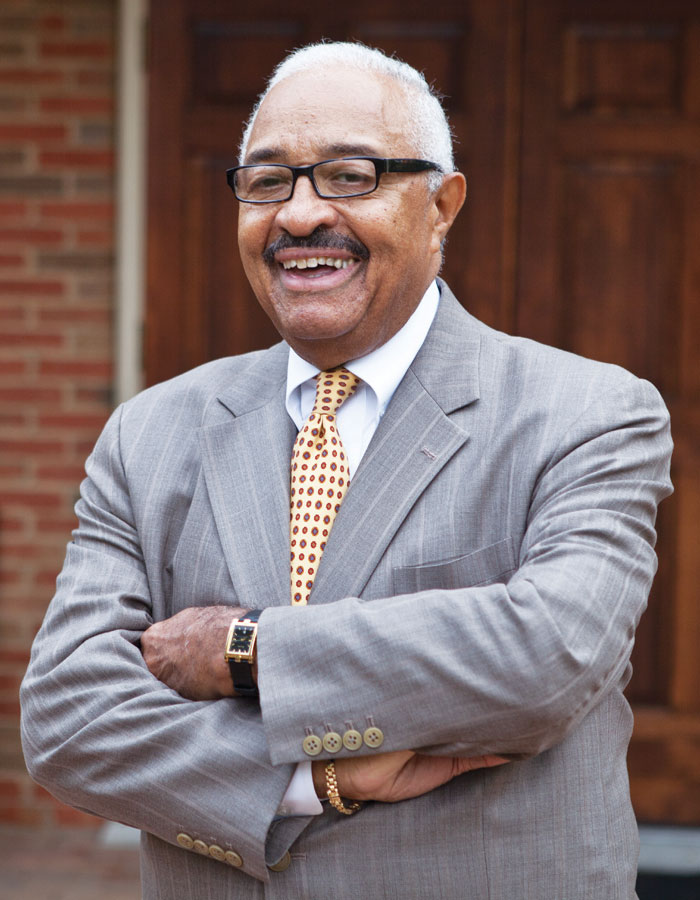 William E. Lowry Jr. '56 H'99 has met U.S presidents, hosted an Emmy and Peabody Award-winning television series on employment issues in Chicago and served on Kenyon's Board of Trustees for more than three decades. As a student, Lowry was just the fifth Black person to graduate from Kenyon, was the first Black man nationally initiated into Beta Theta Pi, captained the football, basketball and baseball teams and was student body president, all at a time when any of that was rare for a person of color.
In recognition of all Bill Lowry has meant to Kenyon, the board voted at its October meeting to permanently honor Lowry on campus by renaming the Kenyon Athletic Center for him. The Lowry Center will be the first building on campus named for an African-American alumnus. (The Snowden family were Knox County residents.)
When President Sean Decatur and Board Chair Brackett Denniston III '69 called him with the news, Lowry was initially speechless. "To me this building is one of the most significant buildings that we have on campus and to feel that my name would be attached to that was beyond comprehension," he said. "This is big; it's a wonderful thing. I'm humbled by it."
The idea to recognize Lowry originated with fellow board member and current Vice Chair Joe Lipscomb '87 P'19, who said he has long appreciated the collegial atmosphere Lowry helps imbue on Kenyon's board, on which Lowry was a trustee from 1988 to 2012 and remains on in an emeritus capacity. "I just thought Bill could be a role model for all the athletes that come after him at Kenyon. They should know the story of Bill Lowry. They should know that here's a person who had enormous impact through his leadership and character," Lipscomb said.
Lipscomb also made a lead gift to endow a scholarship in Lowry's name to bring more underrepresented students to Kenyon. Already, Lowry's friends and peers are joining Lipscomb in honoring him. Emeritus Trustee Alan E. Rothenberg '67 H'10 P'96 and his wife Susan, for whom the Hillel House is named, have supported the scholarship. Former Board Chair Richard L. Thomas '53 H'72 P'81, a lifelong friend of Bill's who was the president of the Betas when Bill was initiated, has also made a gift. A companion annual fund scholarship has also been created to provide current academic year aid to underrepresented students.
Decatur lauded the recognition of Lowry. "His graciousness, his dedication to the College, his impact on generations of students as a student, as an alumni volunteer, as a trustee have just been tremendous. I can think of no more fitting honor than for one of the most public spaces — a space that's a gathering point for students, faculty, staff, alumni and community members alike — to be named after Bill," Decatur said.
Jill McCartney, director of athletics, fitness & recreation, also celebrated the news. "We are thrilled to see our building joining Kenyon's long tradition of iconic buildings named for our most outstanding alumni, and there is no question that Bill is truly outstanding, both as a student-athlete during his time at Kenyon and today as a volunteer," McCartney said.
The Kenyon Athletic Center opened in 2006. Designed by renowned architect Graham Gund '63 H'81, the building features the 200-meter Barrett A. Toan Indoor Track, an Olympic-sized pool, the 1,600-seat Tomsich Arena for basketball and volleyball, the 12,000 square foot Patterson Fitness Center that houses over 200 pieces of exercise equipment, and the 120-seat Beulah Kahler Theater for game film review and team meetings.
---
For more information about giving to the William E. Lowry Endowed Fund, please contact Director of Major Gifts Sarah Tancredi at tancredi1@kenyon.edu.