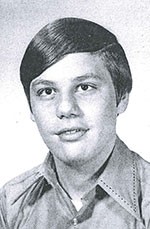 Robert K. Carver Jr. '79 had a lifelong love of reading, which he deepened through the study of classics as a student at Kenyon.
So when his mother, Betty Lou Hawbaker, began considering an estate gift to Kenyon in his memory, she looked to the new Gordon Keith Chalmers Library.
As the result of her planned estate gift, valued at an estimated $10 million, the first-floor reading room — the largest space in the new library — will be named the Robert K. Carver Jr. Reading Room.
Hawbaker called the reading room a natural fit for her son's memory, noting that he deeply enjoyed his time at Kenyon. "The reading room is so appropriate. Because from the time he was a tiny tot, I told him, 'Books are your best friend.' "
The new Chalmers Library is slated for completion in early 2021, with a dedication tentatively planned for April.
"The library has long been the center of student life on Kenyon's campus, regardless of the era," said President Sean Decatur. "We are enormously honored that Mrs. Hawbaker has chosen to celebrate her son's memory with a gift that will see students pursuing their own scholarship in a soon-to-be iconic space bearing his name."
The first floor Carver Reading Room will look onto Middle Path and neighboring Rosse Hall. When completed, the two-story windows will provide abundant natural light. The 36-by-70-foot space — more than 2,500 square feet — will feature a mix of desks and armchair seating for up to 100.
The library has been designed as an engaged academic space, with plans for convenient access to the collection, other resources and artifacts that will enhance the student experience and support the full range of Kenyon's academic mission.
The Carver Reading Room is the largest study space in the new library, which also includes two fourth floor "treetop" reading rooms overlooking the West Quad and Middle Path, as well as another two-story reading room on the third floor. Others include the spacious library atrium and overlooking balconies, as well as two-and-three-person crow's nest study nooks and more than two dozen small group reading rooms, which will be reservable by students and others for collaborative work.
Jim Parker '81 P'10, campaign tri-chair, expects the Carver Reading Room to instantly become one of Kenyon's most recognizable spaces, along with Philomathesian Hall in Ascension Hall and Peirce Hall. "Although I did not know him, Robert Carver and I shared some time at Kenyon and probably had some of the same memories of studying in the original Chalmers Library. The Carver Reading Room in Chalmers Library will no doubt become 'home' to countless students; a simply beautiful setting for academic inquiry that will be an enduring testament to his memory," Parker said.
Chalmers Library will also house the Ellen W. Griggs '77 Career Development Suite, Christine Gould Sharkey '80 Writing Center and various student support services including the registrar and academic advising. It anchors the new West Quad, which will also include an interdisciplinary academic building and new homes for the Offices of Admissions and Financial Aid.
The project is part of the ongoing $300 million Our Path Forward campaign, the largest priority of which is $100 million for scholarships. Total gifts to the campaign have surpassed $269 million as of early May.
Hawbaker's gift is the second-largest capital gift of the campaign, following the $75 million leadership gift from an anonymous donor. Fundraising for the library continues; to learn more about how you can support this effort, please contact Colleen Garland, vice president for advancement.