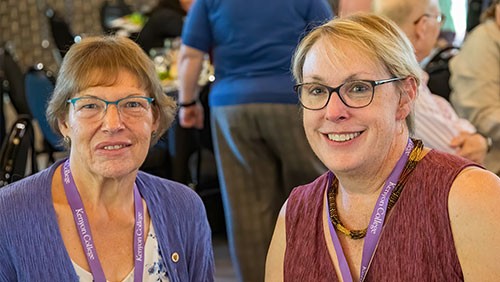 Like many Kenyon alumni, Christine Gould Sharkey '80 points to her writing ability as critical to her success. Sharkey spent 20 years in finance roles before transitioning to community development, all at what's now Corning Incorporated. Her four decades working with engineers, scientists, MBAs and accountants at the Corning, New York, glass technology and manufacturing company continually reinforced the value of Professor of Political Science Bill Frame's required weekly exactly-five-page paper. "Having to make a concise point in that amount of space really honed my writing ability a lot," she said.
That writing foundation was just one reason that Sharkey wanted to join in supporting the new Gordon Keith Chalmers Library. "Libraries are hugely important in our family; my mother was a librarian, my sister (Allison Gould Gallaher '79) just retired as a librarian at Oberlin," she said.
Sharkey and her husband, John, had been discussing the idea of making a significant gift in their lifetimes and when she learned Kenyon's writing center's new home would be in the library, it seemed meant to be. "I got goosebumps," she said.
With her $1 million gift, when Chalmers Library opens in the spring of 2021, Kenyon students will be able to hone their craft with a visit to the Christine Gould Sharkey '80 Writing Center on the second floor.
The writing center is led by a director and composed of trained, student-staffed writing consultants who conduct individual conferences with writers. They provide assistance for any type of writing, within any discipline, during any stage of the writing process. For the 2019-20 academic year, the writing center employed more than 40 students from across departments, including history, modern languages & literatures, political science and, of course, English. They continued to offer conferences remotely this semester.
Sharkey is excited about a gift that will help generations of students build the same writing skills she did while at Kenyon. "I think like so many people from Kenyon, it was a formative experience for me, it changed my life," she said.
Beyond her education, it was Professor of Political Science Robert Horwitz who suggested her for a pilot program for liberal arts students at what was then Corning Glass Works. "It was really kind of, 'Let's throw them in and see how they do'," she said.
Forty years later, Sharkey is happy to be making such a personally meaningful gift as the result of her long career at Corning. In a final piece of serendipity, she is one of a very select group of students who can claim to have slept in the writing center's current home. She was president of Student Council her senior year — the first woman to hold the role — and lived on the third floor of Peirce Hall, where the center is now located.
"All of these things are coming together just at the right time," she said.